Nuns ride through London to launch Sister Boniface Mysteries S2.
Images free for editorial use here:  https://flic.kr/s/aHBqjAERoB
A convent of moped-riding nuns descended upon central London today, to launch series two of the hit drama Sister Boniface Mysteries.
Lorna Watson, who plays the leading role of Sister Boniface, led a fleet of five nuns through the capital during morning rush hour, spotted by Big Ben, London Eye and in the streets of Westminster.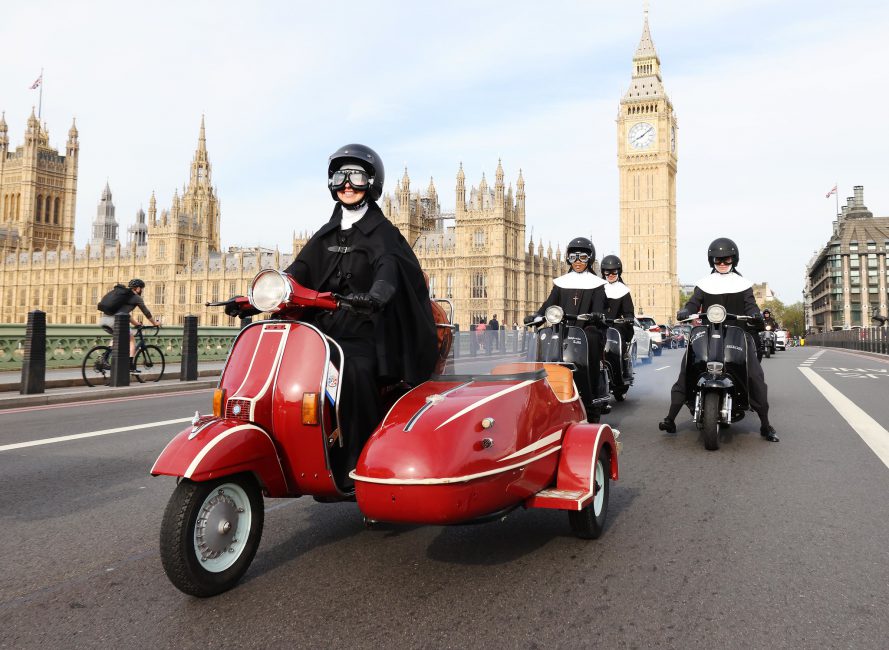 Riding on vintage Vespas and the sister's iconic sidecar scooter in traditional Catholic nun robes, the stunt was straight out of the fictional town of 1960s Great Slaughter.
The acclaimed light-hearted murder-mystery series, Sister Boniface Mysteries, returns to the Drama channel on 26th May at 9pm, with all episodes available as a boxset on UKTV Play. Set in the 1960s, the eponymous Vespa-driving, crime-solving Catholic nun continues her detective work alongside the Great Slaughter Police Department.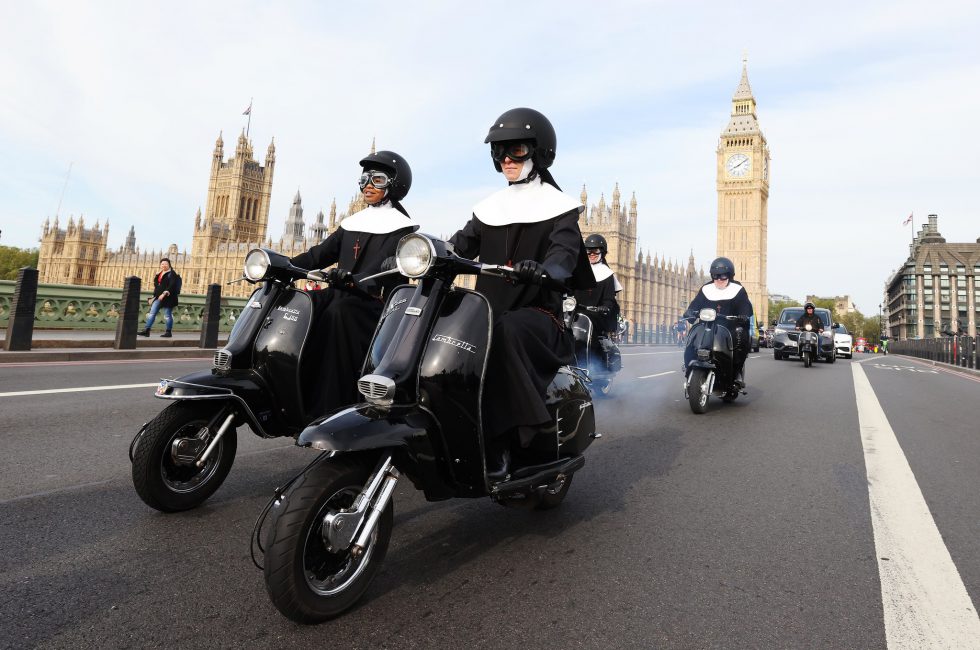 In this series, Sister Boniface forces a murderer into checkmate at a chess tournament, takes a spin at a pirate radio station, confronts a coven of witches and defends her own reputation as the conviction of her greatest adversary, "The Good Samaritan", comes into question.
Lorna Watson, star of Sister Boniface, said: "Aside from the crime solving and wine-making, my favourite part of playing Sister Boniface is riding her moped. It's been such a hoot surprising fans of the show on the streets of London today, hopefully bringing some period drama sparkle to their morning.
Emma Ayech, channel director for Drama, said: "It's fantastic to have Sister Boniface back on Drama and UKTV Play for a second series. It's been a huge hit for the channel, so we can't wait to transport viewers back to the 1960s and witness the mysterious goings on in the iconic Great Slaughter. Our crime-solving nun is back in style, and this is a brilliant way to kick things off."
Sister Boniface Mysteries will return for a 10-part second series on Drama and UKTV Play from 26th May at 9pm. All episodes will be available to stream on UKTV Play.