Fame & Fortune
We Build Brands.
Taylor Herring is an award-winning, independent, PR agency delivering fame and fortune for brands through smart thinking, creativity and innovation.
Commercially driven we deliver long-running PR and social media campaigns as well as eye-catching launch moments for our clients.
The agency is proficient at fast turnaround creative ideas that grab media attention but also in implementing fame-generating integrated campaigns which span press office, social media, influencer collaborations and events.
We believe that successful brand storytelling is rooted in solid insights and the universal passion points of lifestyle, culture and entertainment.
We create engaging campaigns that crash social media timelines – generate headlines, capture the imagination and inspire people to action.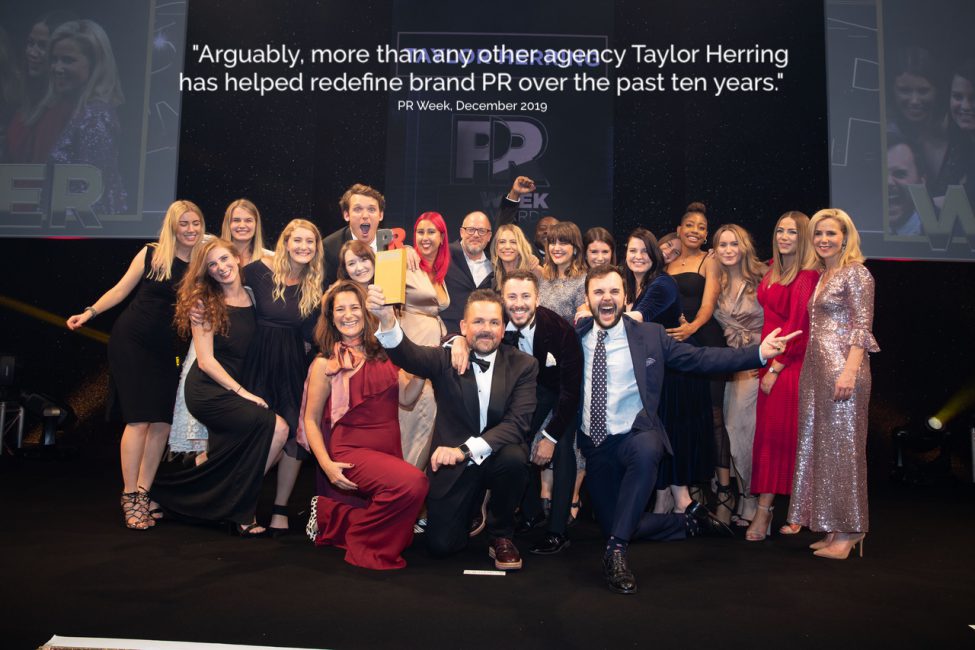 In an ad-blocked, ad-skipped, ad-indifferent world, PR-powered, social storytelling has never been more vital.
In recent years we have landed over 100 major industry awards in a wide variety of sectors including Food & Drink, FMCG, Entertainment & Media, Technology, Retail, Automotive, Travel, Leisure and Sport.
In 2019 we were awarded 'Agency of The Year' in six, unique industry awards competitions.
Consultancy of The Year (PR Week Awards)

PR Agency Of The Year (Campaign Awards)

Marketing Agency of the Year (Drum Marketing Awards)

Consumer Agency Of The Year, EMEA (Sabre Awards)

Outstanding PR Agency Of The Year (CIPR Awards)

Integrated Agency Of The Year (Creative Moment Awards)
Last year we launched St Marks Studios – a creative production powerhouse which produces engaging social media content, films, photography and events.
The chances are you've probably seen some of our work in your news feed but such campaigns take nerve, client and agency collaboration and hard graft.
The case studies on our site are a testament to our client partners who want to stand out from the crowd and have a huge amount of fun making it all happen along the way.
Our client partners include; BBC Worldwide, Coca Cola, Channel 4, Diageo, Disney, easyJet, Greggs, Iceland Foods, Just Eat, Kellogg's, Lego, Paddy Power, Samsung, Santander, Sky and UKTV.
How can we help you?