Polar Bear Stranded on The Thames for Eden Launch.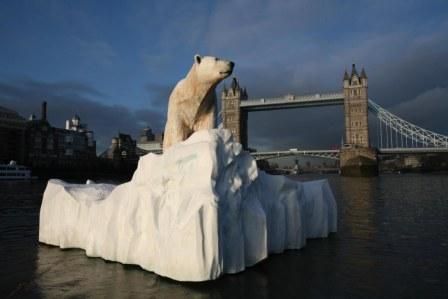 A 16 foot high sculpture of an iceberg featuring a stranded female polar bear and her baby cub was launched on the River Thames today providing Londoners with a timely reminder of the dangers of global warming.
The sculpture, which was specially commissioned to mark the launch of Eden, a new digital TV channel devoted to natural history, graphically brought to life one of the most iconic images of climate change – the melting ice caps.
A team of 15 artists spent two months constructing the 20ft by 20ft square structure which was launched in Greenwich, South East London at 6:30am, before travelling up the Thames to stop beside Tower Bridge and the Houses of Parliament for a national photocall. The structure weighing 1.5 tonnes was winched into place in freezing temperatures, before travelling 7.5 miles along the Thames.
The melting of the ice caps will not only affect the polar bears, there will also be serious repercussions for the two billion people who depend on the glacial meltwater that feeds their rivers. The polar bears' presence in London highlights these issues which will also be addressed in Eden's Fragile Earth series which will run throughout the week.
Broadcaster and eminent wildlife conservationist, Sir David Attenborough says: "The melting of the polar bears' sea ice habitat is one of the most pressing environmental concerns of our time. I commend Eden for highlighting the issue; we need to do what we can to protect the world's largest land carnivores from extinction."
Eden's Channel Head, Adrian Wills, says: ""The Earth is a fragile place and we were keen to launch with a message that would draw attention to the uncertain state of our finely balanced environment. Our aim is to reflect one amazing world, with one amazing channel that can address issues like climate change whilst providing an entertaining, informative experience by airing a range of high-end premieres, landmark natural history programmes and first class wildlife documentaries."
Now the polar bears' have finished their journey along the Thames, they will be taking the message about global warming to Hampstead Heath as well as key cities across the UK including Birmingham and Glasgow.
The Thames is familiar with unexpected visitors. In January 2006 a seven-tonne bottle-nosed whale became trapped in shallow water near Battersea Bridge. Crowds gathered as the British Divers Marine Life Rescue (BDMLR) attempted to save its life. But despite the team's efforts to move it into deeper water, the whale died.
Other mammals which have strayed into The Thames include a family of Harbour Porpoises, which were spotted near Vauxhall Bridge in December 2004. Three years previously, a Bottle- nosed dolphin was discovered swimming past Tower Bridge and Blackfriars Bridge.
Eden's programming starts at 9am, Monday 26th January 2009 with Attenborough Explores…Our Fragile World at 10pm. A programme schedule for new digital Natural History channel Eden can be found at: www.exploreeden.co.uk.
For further information contact Nicola Dann or Hayley Dodd at Taylor Herring PR on 0208 206 5151 or email [email protected] or [email protected]
 
Note to editors:
The Eden sculpture is certified as 100% recyclable by the Set Salvage Company authorised by the Mayor of London's office. Eden goes live at 9am on 26th January with a schedule packed full of high-end premieres. From the scale and beauty of Superstorm, Ganges and Wild China to the revelation and intimacy of Tribe (series 3), Elephant Diaries (series 2) and Tribal Wives – that will play alongside landmark series such as Planet Earth, Ray Mears' Extreme Survival, Life of Mammals and Full Circle with Michael Palin. A complementary website with the url
www.exploreeden.co.uk
goes live on the same day. Eden can be found on Sky Channel: 532 or Virgin TV Channel: 208Formed in 1997, UKTV is an independent commercial joint venture, between BBC Worldwide, the commercial arm of the BBC, and Virgin Media. Attracting 34 million viewers each month, the network consists of 10 distinctive TV channels – Watch, G.O.L.D., Dave, Alibi, Eden, UKTV Style, UKTV Food, UKTV Gardens, UKTV History and UKTV People  – offering a broad range of quality programming across entertainment, lifestyle and factual programming. UKTV currently operates 18 broadcast streams when multiplexes (+1s) and broadband are taken into account, and 11 highly successful websites. Promising to creatively connect its audiences with great programming, UKTV's successful programming strategy combines quality content from the BBC with high profile original commissions and key acquisitions. All UKTV channels are distributed on Sky and Virgin Media. Dave and UKTV History are also available on Freeview. More detail can be found on uktv.co.uk