easyJet launches 'Love Sick' poetry competition for long distance lovers.
NEWS! In the run-up to Valentine's Day, easyJet has launched a romantic poetry competition – challenging passengers to pen romantic lines on the back of an airline sick bag.
The competition was inspired by easyJet passengers who have been increasingly using the sick bags to pen loving rhyme and verse and leaving them in the seat pockets for the next passengers to find.
On a recent flight from Paris to London cabin crew found a caring note scribed in both French and English, sending love and sympathising with anyone who needed to use the bag for its intended purpose.
The contest opens on February 1st runs until the end of the month and is backed by easyJet data, which reveals that over 29% of easyJet Flight Club customers are in long-distance relationships and that 250,000 couples are expected to fly off on romantic mini-breaks during the Spring.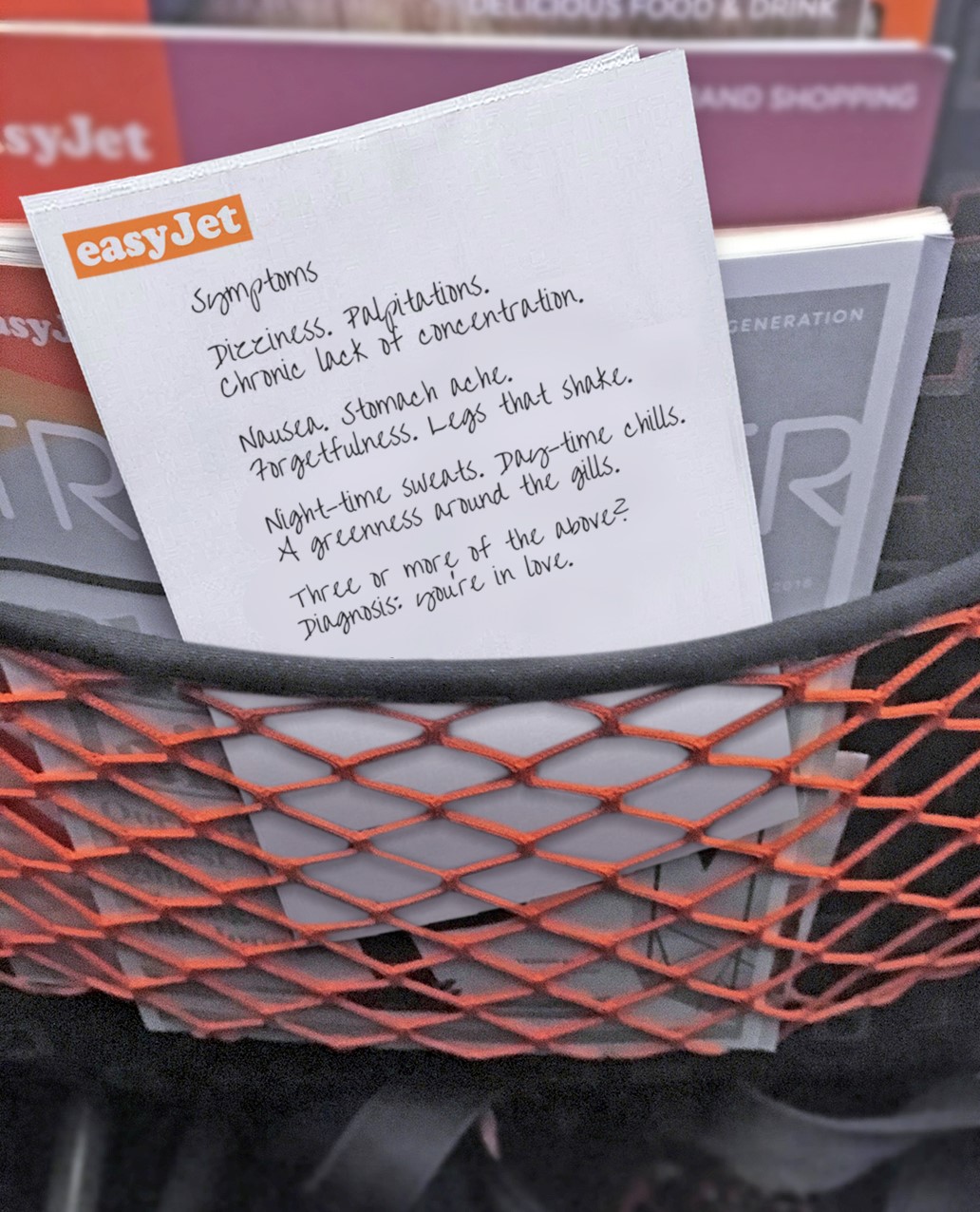 The campaign is believed to be 'the world's first poetry competition ever staged on sick bags', and it's hoped that the initiative will provide a smile to those challenged by long distance love.
The entries will be judged by Daisy Goodwin, who is the best-selling author of eight poetry anthologies and also writer of the multi-award-winning ITV Drama 'Victoria'.
To kickstart the campaign, Brian Bilston the acclaimed `Poet Laureate of Twitter' and author of poetry collection 'You Took the Last Bus Home', has written a new poem to celebrate the launch of the competition.
Of the task ahead, Daisy Goodwin says of her judging role: "Who hasn't felt sick with anticipation travelling to see the one you love?  It may be a short flight but emotionally it's a long haul – poetry is the perfect way to calm that turmoil, and arrive with a heart full of such loving words.
It makes perfect sense that the best poetry of this generation may well be written in mid-air, 39,000ft above the ground. It was, after all, Margaret Atwood who wrote, "Writing poetry is a state of free float". And Walt Whitman's 'Poem of Joys' could easily have been written about the joy of an easyJet flight to Venice or any of the airline's 129 other destinations: "To emerge, and be of the sky — of the sun and moon, and the flying clouds, as one with them."
Tina Milton, Head of Cabin Crew, at easyJet said: "Distance is said to make the heart grow fonder, but long-distance relationships are always hit with some light turbulence. We are challenging our customers to channel their inner Byron, Keats and Wordsworth and pen some romantic lines on the back of our passenger sick bags."
Entrants need to pen their poem on a sick bag (available from their seatback pocket on an easyJet flight) and then share their creation publicly on Twitter or Instagram with @easyJet using the tag #LoveSickSonnets. Once submitted, entrants can take their masterpiece away with them.
Find out more by visiting easyjet.com or on easyJet's social channels: Facebook at https://www.facebook.com/easyJet/ and @easyJet on Twitter and Instagram.
The winning entry will win a pair of flight tickets to anywhere on the easyJet network. Dates are subject to easyJet's approval