Brexit Bus billboards hit the streets ahead of Channel Four drama.
Channel 4 have unveiled their own 'Brexit Bus' this morning ahead of tonight's airing of Brexit: The Uncivil War, a new drama starring Benedict Cumberbatch.
Styled to mimic the infamous Vote Leave campaign coach – the vehicle bears a new slogan – 'Take back the remote control'.
The campaign was unveiled in Westminster as part of a tour that takes in London, Manchester, Leeds, Birmingham, Nottingham, Leicester, Cardiff, Bristol and Reading.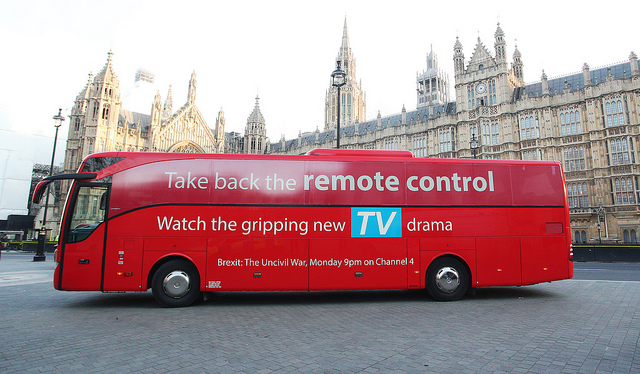 The campaign was designed and executed by creative PR agency Taylor Herring.
To mark the launch of the new film, the broadcaster also commissioned an exclusive study into the national conversation about Brexit and obtained data from Twitter revealing just how much it has dominated our thoughts since the referendum.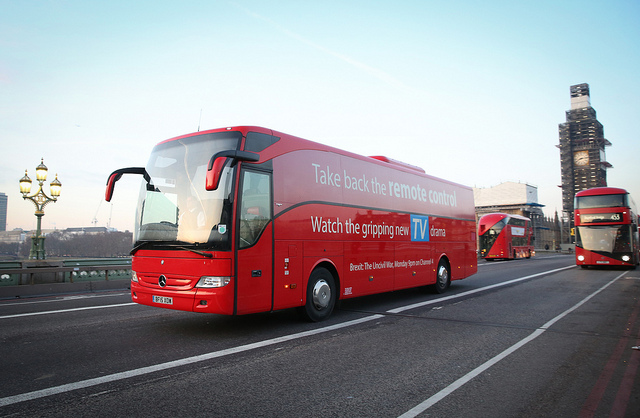 Research reveals that Brits can't avoid Brexit, as we have over 92 million conversations about it every 24 hours, while the term 'Brexit' is heard more than 507 million times a day in the UK.
New figures from Twitter show there have been 180 million tweets globally mentioning Brexit since the beginning of January 2016 – but only two thirds of those have come from the UK.
Channel 4's new film stars Benedict Cumberbatch as Leave campaign director Dominic Cummings, telling the new story of how the campaign ran behind the scenes.
Brexit: The Uncivil War airs on Channel 4 tonight at 9pm
• Images – free for editorial use