Travel industry unites for 'Travel Day of Action' demonstration at Westminster.
Download images here: https://www.flickr.com/gp/taylorherringpr/x17313
Representatives from across the aviation and travel industry came together at Westminster today to put pressure on Government to safely reopen travel for this summer and provide tailored financial support to the sector.
The 'Travel Day of Action' sees the coming together of airlines, airports, travel management companies, tour operators, travel agencies, suppliers and partners to call on the government to capitalise on vaccine rollout and reinstate a risk-managed approach around a safe return to international travel in time for the crucial peak summer period.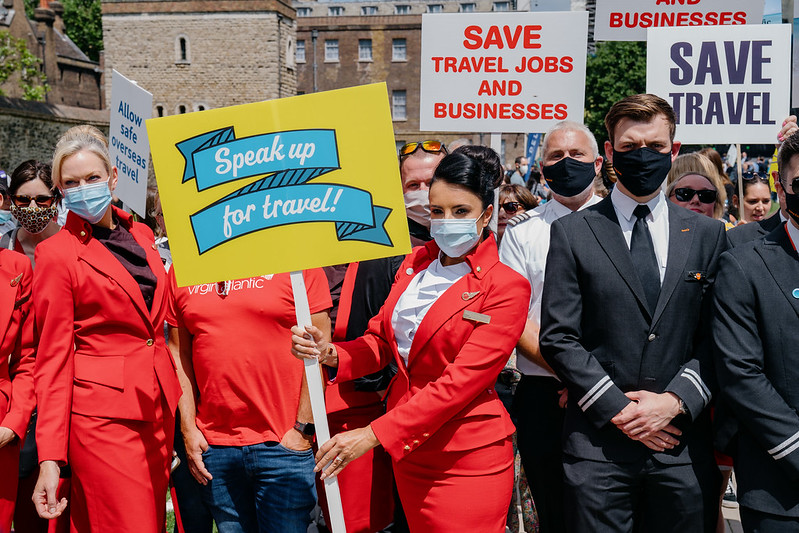 Organisers are campaigning to get Britain travelling safely, in order to connect loved ones who have been apart for many months, protect travel jobs and businesses, as well as generating income to businesses across Europe and support the mental and physical wellbeing of the public.
Supporters of the cross-industry day of action include ABTA, Airlines UK, the Airport Operators Association, BAR UK, UKinbound, the Business Travel Association, IATA, Advantage Travel Partnership, and the wider industry under the umbrella Save Future Travel Coalition, alongside unions GMB, Unite, BALPA and Prospect.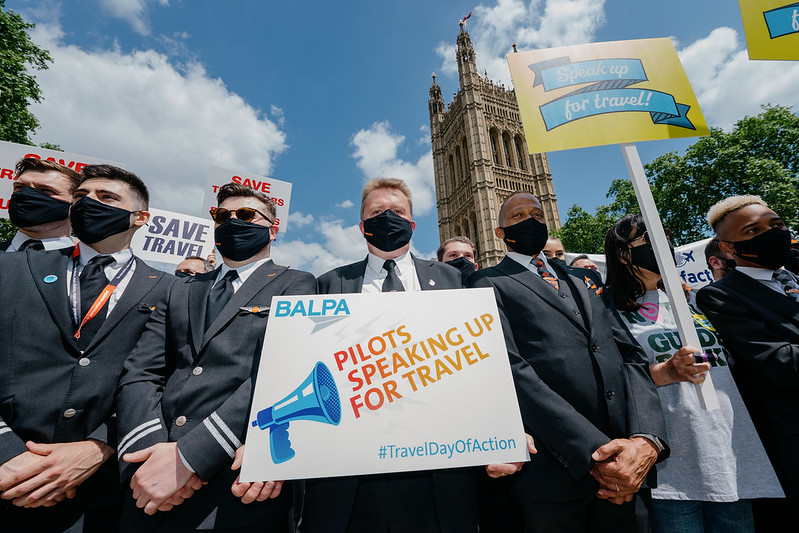 Hundreds of airline personnel including pilots, cabin crew and ground staff from major UK airlines including easyJet, British Airways, Virgin Atlantic and TUI attended the event, along with hundreds of staff and owners of travel agents and tour operators.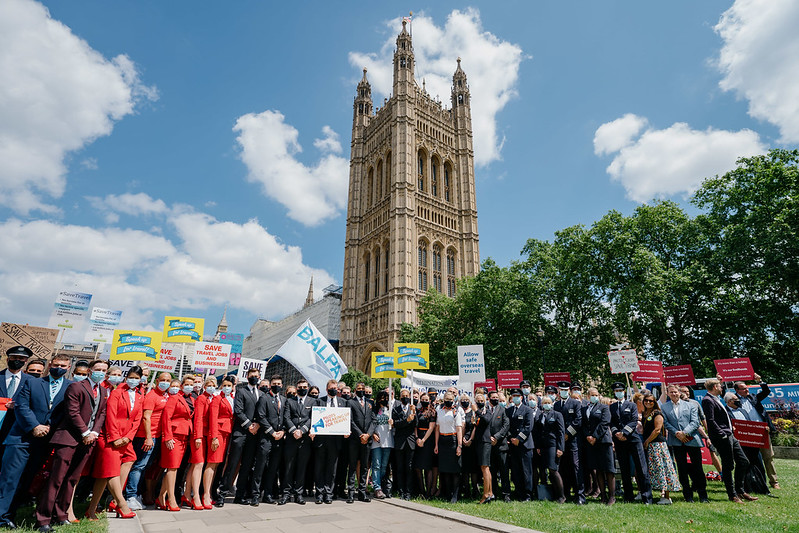 As the wider domestic economy reopens, and edges closer to normality, the UK travel and tourism sectors however remain essentially closed and mired in uncertainty as an estimated 195,0001 jobs have been lost across the sector and many more remain at risk.
Attendees and supporters are lobbying the government to allow international travel to return safely, in a risk-managed way by properly implementing the Global Travel Taskforce's plan for a traffic-light system; by expanding the Green list in line with the evidence and making restrictions more proportionate, whilst keeping a strong red list to guard against variants.
Furthermore, they are calling on parliament to bring forward a package of tailored financial support, including extension of the furlough scheme until business can resume at a sustainable level.
The British travel industry generates over £53 billion in domestic spending and £28.4 billion in spending from foreign visitors and tourists.
Press Contact: Taylor Herring +44 208 206 5151
Spokespeople Quotes:
Tina Milton, Director of Cabin Services at easyJet commented: "easyJet is supporting the Travel Day of Action today alongside many of our industry colleagues to speak up for travel and show support for the industry we all work for and love. It plays such an important role in connecting loved ones and businesses as well as bringing value to people's lives through the opportunity to explore the world and experience new cultures. International travel can be safely re-opened and so today we are coming together to urge the UK government to allow international travel to return. This can be done by proper implementation of the traffic-light system; safely expending the Green list in line with the evidence; and the reduction and removal of restrictions for low-risk countries so the fully vaccinated can travel restriction free."
Clive Wratten, CEO of the Business Travel Association (BTA): "Today's day of action highlights the dire straits of our industry. The travel sector remains in lockdown as the rest of the country opens-up. Business travel is essential for the UK economy and our ability to trade on the international stage. The Government must provide targeted support and extend the green list at its next review."
Dale Keller, Chief Executive of Board of Airline Representatives UK (BAR UK) commented: "Today's demonstration of unity is the culmination of over a year of engagement with the government on the pragmatic policy and risk-managed approach needed to enable international travel. The evidence and data exists for government to make transparent policy decisions and the forthcoming review must provide clarity on how and when restrictions can be safely reduced for travel between low risk countries and for vaccinated and recovered passengers. The industry and the British public deserve nothing less"
Mark Tanzer, Chief Executive of ABTA – The Travel Association said: "Time is running out for many travel agents and tour operators, they are on the brink of losing their jobs, their businesses and some of them even face losing their homes. They feel totally abandoned by this Government – the restrictions on travel have stopped them earning a living but there hasn't been any tailored financial support to help them through the crisis. We can't go on like this. The Government needs to reopen travel safely this summer and support travel businesses through the crisis."
Malcolm Sutherland, Director of Flight Operations at TUI; "TUI is proud to stand side by side with many of our industry colleagues today to speak up for travel and highlight the importance of our industry. We don't just take people on holiday, we connect loved ones and play a vital role to the economic success of our country. We believe passionately that international travel can return safely, especially due to the success of our vaccination programme. We have worked closely with the Government to create a framework to restart travel, but we now need to have transparency on how data is being applied for green, amber and red list destinations and would like to see the fully vaccinated travel restriction free, as they do in the EU and US. We support the Government's ambitions to achieve Global Britain, we're asking them to join with the UK's world leading aviation and travel industry to safely open up travel before it's too late."
Joss Croft, CEO, UKinbound: "Today we stand with our colleagues across the tourism industry to deliver a stark message to Government. Hundreds of thousands of jobs are on the line and urgent action is needed. Inbound tourism is the UK's third largest service export industry worth £28.4 billion to the UK economy and can significantly support the country's recovery, but the Government has effectively placed a 'closed for business' sign around the UK. The Government needs to safety reopen travel through a risk-based approach and provide targeted support for the industry."
Julia Lo Bue-Said, CEO at Advantage Travel Partnership; "The travel industry has been left decimated following almost 18 months of turmoil, with border closers, legal barriers and a woefully short Green List. A complete lack of government support means that many businesses are now fighting to keep the lights on. We are asking for the safe return of international travel through an effective, risk managed process by properly implementing the Global Travel Taskforce's plan for a traffic-light system. The Green List must be expanded, with more proportionate restrictions and with more transparency on the data so that businesses can understand how a destination is classified. The Government must also bring forward a package of tailored financial support for travel businesses, including extension of furlough support, to account for the sector's ability to trade and generate income being much slower than almost all other sectors. Travel is more than simply holidays, it's also about bringing together loved ones and is intrinsic to many global businesses. As other economic sectors are able to trade their way to recovery, it's paramount that travel can too so that the industry is not left on its knees and fighting for its survival."