That Tuesday Thing [No 9].
A weekly scoop-up of things from our inboxes and social media feeds..
► Apple is the word's most valuable brand. Coca-Cola has been displaced as the world's "most valuable" brand for the first time, with Apple taking the top spot in Interbrand's annual countdown of the top 100 global brands. – via Brand Republic
► Viral Of The Week. Clucking brilliant advertising from Mercedes
► To promote their upcoming broadcast of Sharknado – Prime TV in Auckland (NZ) have baited a giant fish-hook with a life-size model cow and suspended it from a crane over a shopping centre. This is pretty much the perfect way to promote a B-movie about sharks falling from the sky after being caught up in a giant tornado.
► This Is Why No One Follows You on Twitter on.mash.to/166whK5 via @mashable
► Happy 90th Radio Times. The Radio Times may no longer be the best-selling magazine in the UK – but it still claims to be the most valuable magazine on the newsstand and the title with the most subscribers as it celebrates its 90th birthday this week. In the first half of this year it was the third best-selling title overall in the UK with average weekly sales of 812,543. It costs £.160 a week and has some 229,024 subscribers. – via Press Gazette
► Facebook is finally letting you search for old posts gizmo.do/K0yQFsx
► Tumblr of the week > Logo mash ups – here
► Smoking Horror Masks Launched For Haloween. 'They might look like part of a Halloween costume', the Daily Mail reports 'but a series of shocking masks have been designed to demonstrate the real and frightening health risks associated with smoking.' To coincide with the NHS' 'Stoptober' month, HealthExpress have been visiting public smoking areas with these ghoulish creations.
► Diana Movie Poster Row. An Advertisement for Princess of Wales biopic adjacent to Seine tunnel is removed after raising hackles in the British media – via Media Guardian
► WeBuyAnyCar.com left bemused by 'hoax' reply letter from Twitter prankster. The viral hit had over 30,000 retweets on Sunday.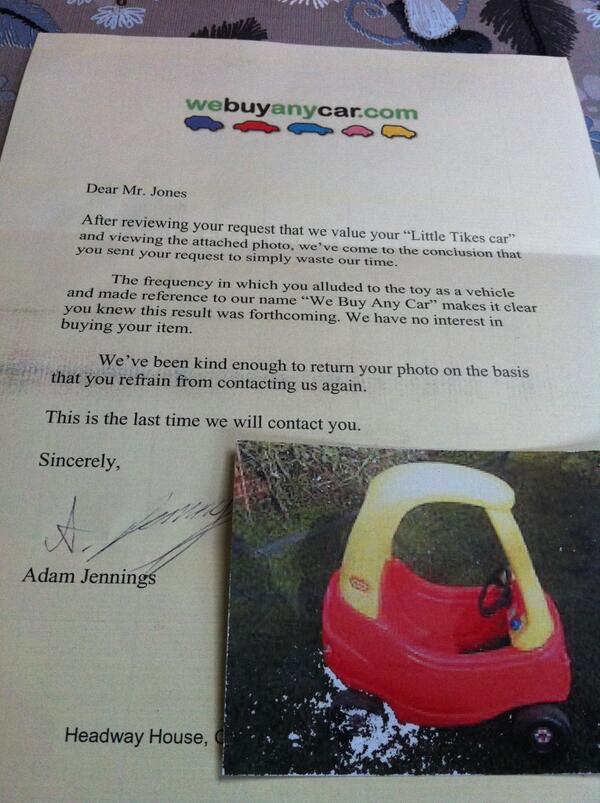 ► Children's television in Britain is under unprecedented threat as the under-12s turn to tablet devices and mobile phones for their entertainment. – via The Independent 
► How to make an entrance. Adventurer and television presenter Bear Grylls arrived at London's Battersea Power Station last Thursday by rappelling down the building for the media launch of his new television series on Discovery Channel. More about it here.
► Asda has been forced to withdraw a "Mental Patient Fancy Dress Costume" from its website, after facing criticism on social media sites. The supermarket listed the product, including a "torn blood stained shirt", fake blood and a fake meat cleaver, on its Asda Direct site for £20. – via Marketing
► What Facebook Number are you? Find your face amongst 12 billion images. Zoom in and you'll see the magic.. [via Stuff]
► Ever wondered how to make a supercut video like the ones on YouTube? Well Mashable have all the answers
► The conclusion from the iPhone speed test is 'if you have an iPhone 5, don't bother upgrading to an iPhone 5S' or something along those lines…
► Uproar as Helen Fielding announces that she's killed off Mark Darcy in Bridget Jones series! [Image via blinkbox]
► Kanye West claimed to be the "biggest Rock Star on Earth" in an interview with Zane Lowe on Radio 1. US chat show host Jimmy Kimmel spoofed the interview. Kanye went crazy at Jimmy Kimmel on Twitter… [via Buzzfeed]
► A Star Wars fan was forced to sell his 16ft tall, £10,000 replica of the famous AT-ST vehicle that appeared in Return Of The Jedi because his girlfriend grew tired of it! [via MSN]
► One of Europe's infamous unfinished buildings La Sagrada Familia in Barcelona has been visually completed in this time lapse video.
► Not sure how to quit your job? Take leaf out of video producer Marina Shifrin's book and do it through the medium of interpretive dance and publish it on YouTube – and get 3 Million views.
► 2.1 Million unique users viewed 8.3 Million videos, pics and articles on internet humour site The Poke during September.
► Pressure has mounted on American football team Washington Redskins to change its name which is considered a racial slur. Buzzfeed put together a list of the strongest anti racism ads of the past 20 years
► Geographical mind boggler of the day – A lake that exists in the middle of the Chinese desert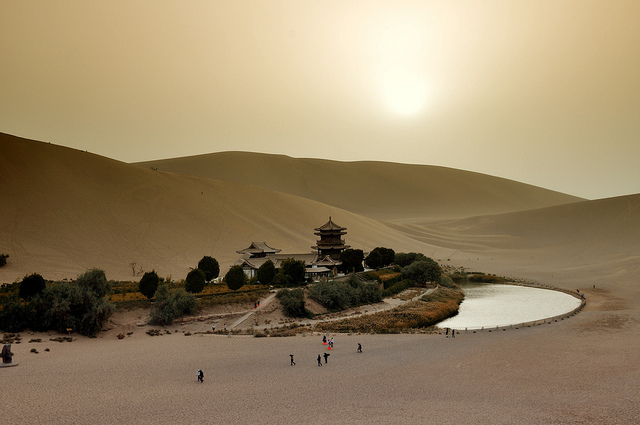 ►There has been a lot of criticism directed at underwear ads as many of them feature women with perfect bodies. A lesser known problem is that men can feel just as insecure about their bodies. To highlight this problem, Jenny Francis and The Sun have created underwear poster ads that show how ordinary men look like in them. – via Design Taxi
► Dove are putting inspirational advice on chocolate wrappers. Some can be taken very literally [via Mashable]
Previous issue here
Contributors @TaylorHerringPR @shaneilp_brownb