Subway launch "Sandwich Passport'.
NEWS!
Subway introduces new 'Sub-Waiver' – a 'sandwich passport' which enables UK drivers to cross the EU border without having the contents of their lunchbox confiscated by customs officials.
Under restrictions introduced at the beginning of the year, those entering the EU from the UK are banned from bringing meat and dairy products across the border.
However vegan sarnies also face risk of confiscation despite being exempt.
Last week Dutch TV news aired footage of customs officers confiscating ham sandwiches from confused truck drivers arriving by ferry from the UK.
From today, those travelling from the UK to the EU will be provided with a 'Sub-Waiver' with any purchase of Subway's new vegan T.L.C. (Tastes Like Chicken) Sub at Subway's Dover store, to ensure a stress-free sandwich crossing.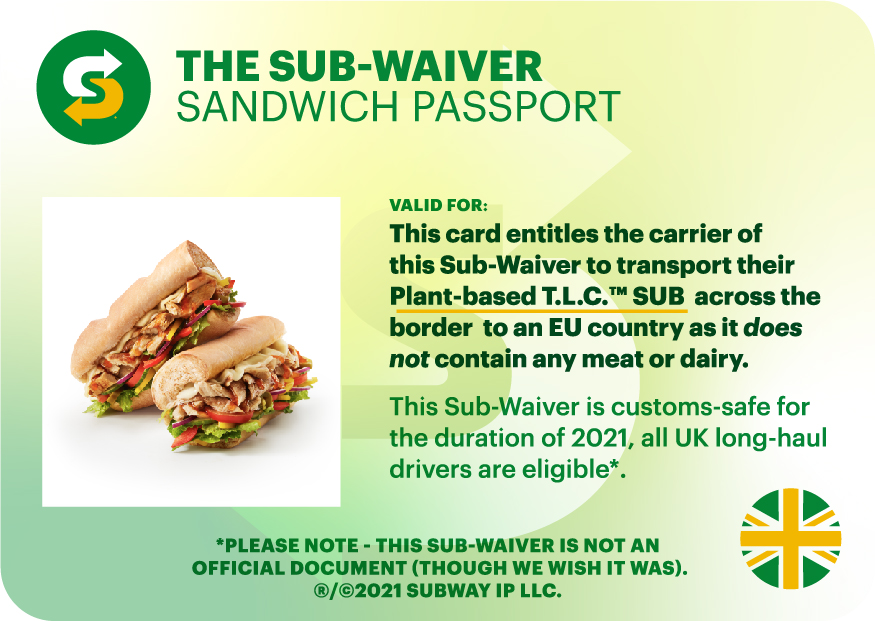 Subway's new vegan T.L.C. (Tastes Like Chicken) Sub is the most recent addition to Subway's plant-based menu and made from soy-based protein and mozzarella-style slices. Packed with all the delicious flavour of the original, the T.L.C. Sub is made with a bespoke recipe designed to mimic Subway's roast chicken breast strips and tastes so much like the real thing that even meat-lovers will want to give it a try.
Customers can order via delivery services including Just Eat, Uber Eats and Deliveroo, or using Mobile Order collection via the Subway app.