Our 2020: Creative brand communications in the time of Covid 19.
It's time to wave off the most exhausting, relentless and challenging year in our agency's history.
When corona hit UK shores our income was decimated and a set of beautifully crafted 12-month brand plans tossed into the bin.
We had to radically evolve and reshape the work to be flexible, relevant and covid 19-secure.
It's been an epic, collaborative effort between our awesome clients and talented team here at Taylor Herring to deliver a body of work we would have been incredibly proud of in any 'normal' year.
We've pushed the boundaries of the traditional PR agency skillset to deliver outstanding media coverage and meet our clients business objectives.
Beano: BeanOLD
 Creative concept: Beano for adults.
 The launch of BeanOLD, (the Beano's first comic for grown-ups), was designed to drive fame by delivering cheer to adults in the hardest year of recent history.
We leveraged the 'Beanofication' of some of the most famous faces of 2020 including Sir Tom Moore and Dominic Cummings to tap into the current news agenda.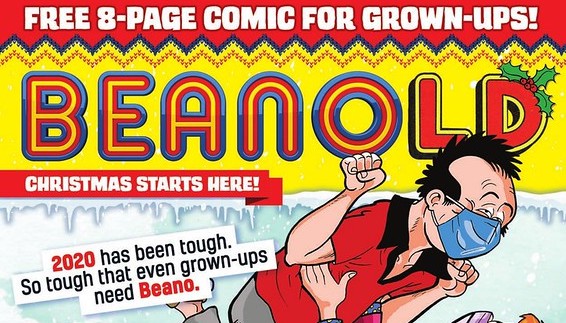 The campaign saw coverage in over 400 media articles being featured on BBC News, page three of The Guardian and in a total of 35 national titles. On the day of launch the story became a national talking point on social media with over 27m impressions.
It trended across the UK on Twitter and led to a 50% uplift in sales on Beano.com. The comic itself also saw an incredible 125% uplift in newsstand sales.
To help keep the nation smiling this Winter we just launched the first ever @BeanoOfficial comic for grown-up's – BeanoLD. https://t.co/OUyDscIUZ3 pic.twitter.com/fhowHrOuVV

— Taylor Herring (@TaylorHerringUK) November 19, 2020
Disney x Make A Wish
We handled brand comms around the launch of Disney's first ever Christmas ad – a three-minute animated short telling the story of multi-cultural Christmas traditions across the generations in partnership with Make-A-Wish. 
The  heart-warming spot existed solely on Disney's owned channels –  as such the PR strategy was everything in terms of reaching a wider audience.
We set up a virtual showcase led by Disney's creative team who told the story behind the ad which was widely placed amongst the top 10 most engaging ads of the 2020 Xmas season.
We developed a targeted influencer gifting campaign – placing a fundraising Mickey toy in the hands of top UK celebrities, including Helen George, Stacey Solomon and Duncan James.
We landed over 230+ pieces of coverage across broadcast, print and online media.
Disney+ Home Alone House In Gingerbread
To mark the 30th anniversary of Home Alone we created a 1.7m gingerbread house replicating the iconic McCallister house from the film.
Celebrated characters and other unforgettable items of the fan favourite movie were given the full festive gingerbread treatment.
300+ media articles worldwide.
easyJet: Biosecurity
Covid-19 caused Europe's biggest airline, easyJet, to ground all flights for eight weeks.
A key task was to highlight security measures and maintain a dialogue with customers throughout the pandemic. A comprehensive comms campaign looked to re-establish trust and confidence.
We worked across multiple workstreams including the creation of pan-European toolkits to highlight bio-security measures.
Videos and photo assets were all shot during lockdown while observing challenging social distancing regulations.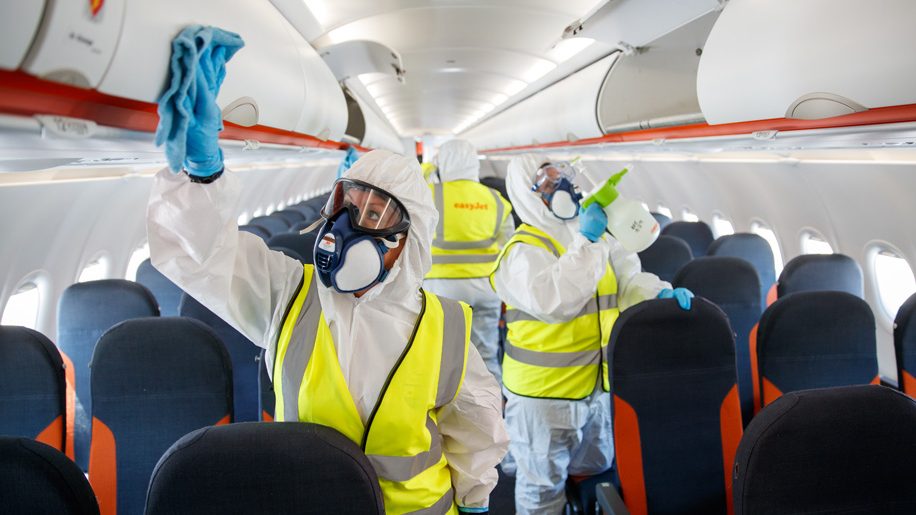 easyJet: Hero Masks
Creative concept: Make masks less intimidating
We created a range of kid-friendly face masks for children to wear on flights – 30,000 of which were distributed for free in flights across Europe.
The campaign smashed every single metric – garnering more than 1,000 pieces of coverage throughout Europe and had a direct effect on the business bottom line.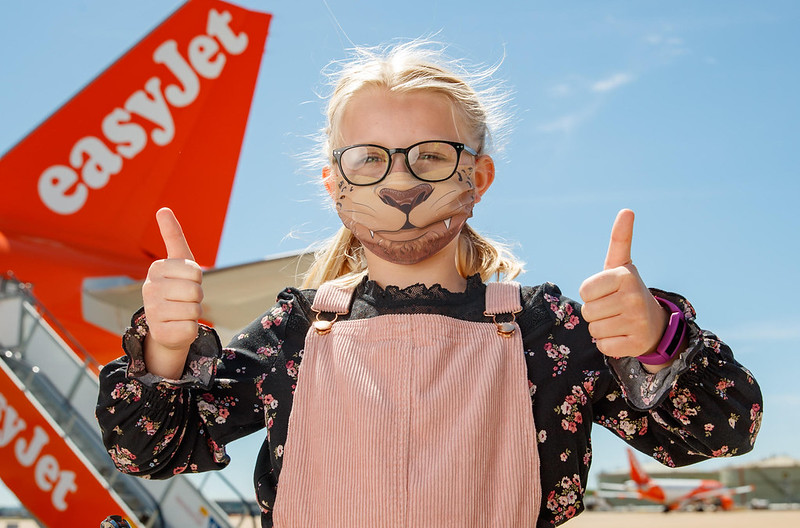 easyJet: Trolley Delivery Service
Creative concept: In-flight joy – direct to your door
In December we kept easyJet front of mind and provided some light relief from the gloomy news agenda by reminding the public of one of joys of flying.
We launched the word's first inflight drinks trolley delivery service direct to people's doors, in a partnership with Deliveroo.
The public was given the chance to book a trolley delivery slot which would see two uniformed cabin crew arrive at their home wheeling a cabin trolley.
We launched with a press release, witty promo video and engaging photography of our cabin crew hitting the streets.
All proceeds were donated to Age UK. Results saw more than 300 pieces of international media coverage.
Greggs: Concierge Card
Creative concept: Greggs first VIP Service 
Our work for Greggs has helped affirm the high street chain as one of Britain's most-loved brands.
In February we launched their 'Concierge Card'. Stormzy was the first into the scheme, a self-confessed fan of a sausage, bean and cheese melt; the vegan sausage roll and the Yum Yum.
He boasted about his new card to his 5 million fans on Twitter and Instagram. He was not paid for the campaign but received something better than money, free on-demand pastries.
The campaign delivered over 400 pieces of high value media coverage and became the talking point of the aftermath of The Brits.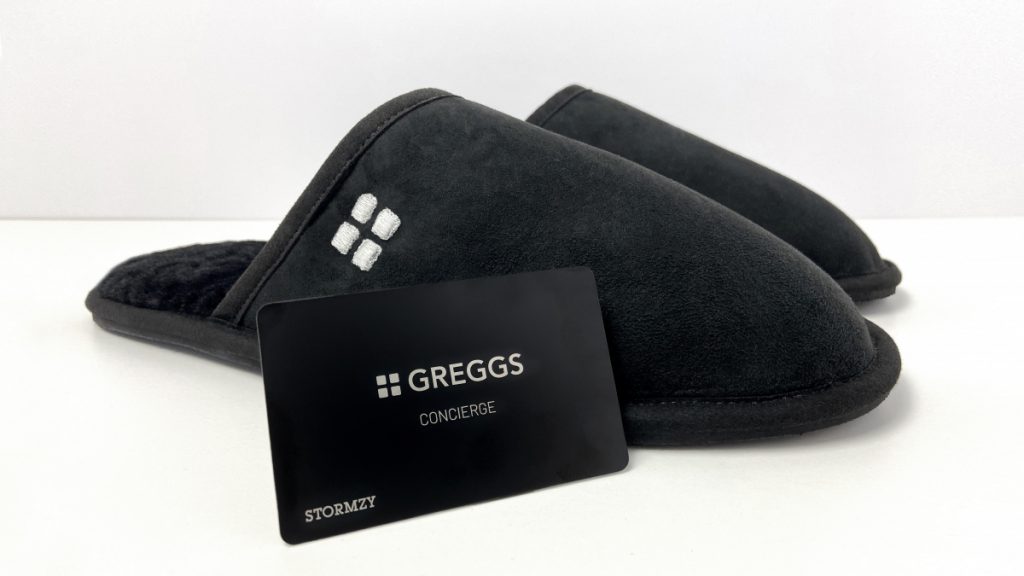 Greggs x Just Eat: Lockdown Deliveries
Creative concept: Sausage Rolls on wheels 
As hundreds of Greggs restaurants were forced to close their doors during lockdown, we needed a creative way to remind people that they could still order by delivery on JustEat.
A team of professional skaters we're hired for the unique 'Sausage Rollerskate' delivery service.
Love Island star Maura Higgins featured in the photography shoot. The campaign delivered over 250 media articles, with a reach of over 185m.
Greggs orders on JustEat spiked during the campaign.
Today we launched the UK's first sausage roll-er skate delivery service for Just Eat and Greggs. pic.twitter.com/xZapo9ozmg

— Taylor Herring (@TaylorHerringUK) September 23, 2020
The Ivors Academy
Our eighth year working for The Ivors – handling PR for the most prestigious event in the music industry's awards calendar.
This year the whole event happened in lockdown – despite which we delivered over 400 pieces of high value media coverage.
NEWS! The Ivors 2020: Winners Announced – @IvorsAcademyhttps://t.co/1KzZLhms3C pic.twitter.com/bnQTNgkFqk

— Taylor Herring (@TaylorHerringUK) September 2, 2020
Kellogg's: Kids Cafe
Creative concept – A café designed and run by kids
In January we worked with Kellogg's to launch their new cereal range, W.K Kellogg by Kids.
We created a unique pop-up cereal restaurant designed and staffed entirely by kids. Writing on walls and tables wasn't frowned up on – it was encouraged.
Parenting influencers and 1000+ families attended the pop-up, driving conversation about the cereal and event on social media.
Media coverage included features in Good Morning Britain (ITV), The Times, Daily Express, Daily Mirror, Mail Online and a great spread of London listings.
Paddy Power: Liverpool win the Premier League
Creative concept: Celebrate the premiership safely in your own bubble
With Liverpool winning the Premier League title at the end of June 2020, there was media concern that fans would be out celebrating in a non-socially distanced manner.
Indeed, by the time their title was confirmed, tens of thousands of fans flocked to the streets. In a quickfire reactive PR stunt, we created a tongue in cheek PSA to educate fans how to celebrate safely.
Peter Crouch fronted the awareness campaign, alongside renowned LFC guitarist Jamie Webster, who performed to the fans in attendance. Fans were kept in individual, Covid-19-compliant, giant bubbles at the event.
The content was one of Paddy Power's best performing social campaigns of the Summer.
Premiership Rugby: Restart
 Creative concept – Star players back on the pitch
 We worked with Gallagher Premiership to create an attention-grabbing spectacle to around the much-awaited return of the rugby after a summer-long lockdown.
In just two weeks we created the UK's largest ever outdoor painting on the turf at Twickenham Stadium. The pitch portrait saw three of rugby's biggest star players immortalised on the pitch.
A team of eight artists, took over 100 hours of planning and nearly 1,280 litres of biodegradable paint to cover 7,000 square metres in one night.
The campaign earned 236 media articles which all referred to Premiership rugby's return. We delivered a 15% upswing in the forecast TV audience.
Samsung: Notting Hill Carnival
Creative concept: Samsung Supports Notting Hill Carnival during Covid.
When we heard Notting Hill Carnival was likely to be cancelled we identified an opportunity to help carnival organisers raise the profile of the online-only event while also showcasing the 8K tech.
We brokered a unique partnership for Samsung to be sponsor of the first virtual Notting Hill Carnival.
The fully integrated 'Colours of Carnival' campaign helped boost public awareness of event, starting with a countdown trailer on the Piccadilly Screen and a series of films celebrating dancers, musicians and chefs.
Coverage exceeded 500 media articles and broadcast items. Video assets were viewed millions of times across Samsung, editorial and Notting Hill Carnival owned channels.
Samsung: Eco Bubble
Creative concept: 'Freshly Laundered' – the smell of fresh laundry'
In September we devised a creative campaign to launch the new Samsung ecobubble washing machine. We created the tech brand's first ever fragrance – which captured the essence of fresh laundry.
The perfume was housed in unique glass bottle which was an exact replica of the machine and given away free with the first 100 sales.
We partnered with Olympic gymnast Max Whitlock to launch the scent and create tongue-in-cheek content which spoofed classic perfume ads. The campaign secured over 150 pieces of coverage including 10 national hits, video content received over 500,000 organic views across social channels.
Samsung: Showcase The Arts
Creative concept: Develop a new platform for artists who have lost their stage during the pandemic.
The pandemic hit all industries hard – but none more so than the performing arts, with thousands of young performers missing out on valuable opportunities to showcase their talents this year.
Samsung wanted to help. They briefed us to create a new platform to help performers who had lost their stage. Enter 'Samsung Spotlight' – an initiative to identify and champion talent and promote them on Samsung's owned channels.
The campaign is being launched in December with a unique contemporary dance performance from Normal People star Paul Mescal.
It encourages young performers to upload their unique performances to social using #SamsungSpotlight and the best entries will be used for a Samsung advertising campaign in 2021.
Santander: Fraud Awareness
Creative concept: Turning crimes into Rhymes
Online scams peaked during lockdown – so we devised a creative campaign to educate older consumers on how to protect themselves.
We identified National Poetry Day as a key cultural moment and hook to highlight 'the art' of scamming. We took fraudsters' own words to create poems which 'turned financial crimes into rhymes'.
We engaged national treasure Pam Ayres and London spoken word artist, Suli Breaks. Both artists created unique poems – focusing on investment fraud and cryptocurrency scams respectively.
Through engaging video performances and imagery, we secured more than 100 media articles with a reach of over 13m – including the lead story in Financial Times on the day of launch and features in the Daily Express, Telegraph and Times Online.
Sky: Factual Channels Launch
 Creative concept: Quiz yourself smarter
 We were tasked with driving awareness of Sky's new factual channel offering; Sky Documentaries, Sky Nature and Sky History with a fully integrated campaign​ to drive new audiences.
Tapping into a national obsession with quizzes in lockdown we partnered with TV's Rachel Riley to create and launch 'Sky's National General Knowledge Test' – the definitive 100 quiz questions everyone should really know the answers to.
Three leading academics helped compile the questions.
The quiz was offered up to news media for publication and a live quiz was hosted on Instagram by Riley. An interactive embeddable version was completed 200,000 times over the course of the campaign with 100+ media articles secured by the team including front page coverage on the Daily Mirror.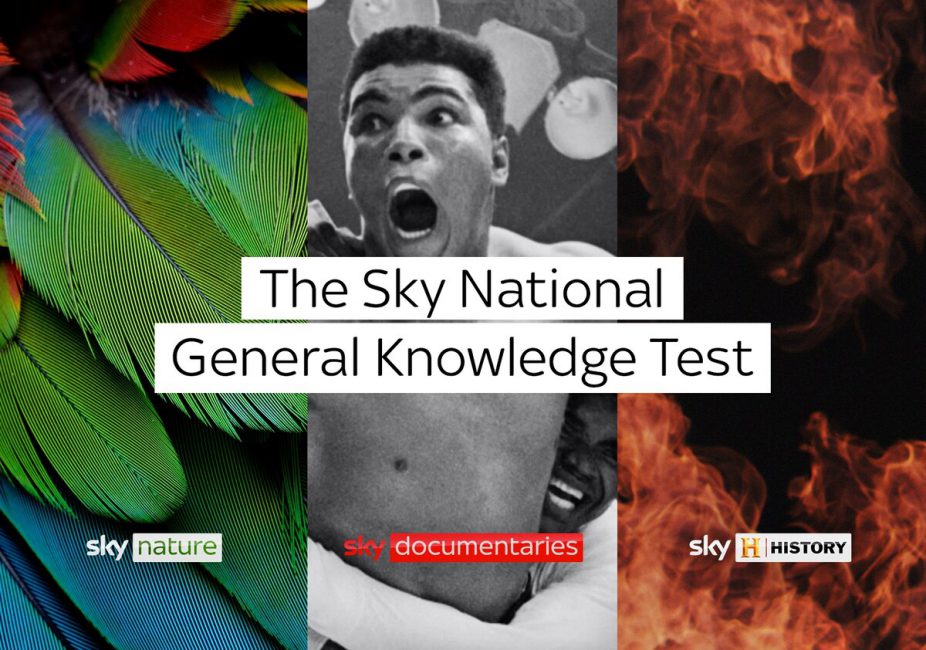 Sky: Now TV
Creative concept: delivering festive cheer
We launched a new 'Greetings Gram' service designed to spread Christmas cheer to friends and families that can't meet in person.
Inspired by the hit Christmas movie Love Actually the new greetings service lets fans of the film send a free, personalised message direct to the doorstep of their loved one.
The festive greeting is printed in sequence on large cards and performed, in a socially distant fashion, by a friendly messenger on the doorstep of the recipient.
UKTV: The Bill In Lockdown
A creative campaign to re-launch a 37-year-old TV series on the free streaming service UKTV Play.
The creative was directly inspired by and rooted in key audience behaviours during the global pandemic.
We engaged cast members from the first series to come together for a special virtual reunion to promote the series being available on UKTV Play – captured on video and edited to an engaging and entertaining piece of video content.
The work garnered over 230 media news and feature pieces including a suite of prime-time TV coverage.
The campaign existed in isolation and had a direct commercial impact; The Bill went straight to the top of the UKTV Play charts, views in the first week were 100% up on projections and visits to the UKTV Play website were up 15%.
UKTV: Gold Crackers
To help promote awareness of Gold's Christmas schedule we asked the good people of Twitter to share a topical 2020 joke that we could stick in a cracker.
Our latest social/PR activation for @goldchannel

Asking the good people of Twitter to share a topical 2020 joke that we could stick in a cracker.

Amazing response. pic.twitter.com/sf3fpIP504

— Taylor Herring (@TaylorHerringUK) December 9, 2020
UKTV Drama: Jane Austen Season
A life-sized cake of the much-loved Mr Darcy character played by Colin Firth in the BBC mini-series of Pride and Prejudice, was to celebrate the launch Jane Austen Season on UKTV's Drama channel.
250+ fully credited media articles.
This week we helped UKTV Drama launch their new Jane Austen anniversary season – by creating a life-sized, 6ft cake of Mr Darcy@UKTV pic.twitter.com/8J9XlhGbgh

— Taylor Herring (@TaylorHerringUK) September 4, 2020