Marcus Rashford guest edits special Beano comic.
Editorial Images downloadable here: https://flic.kr/s/aHBqjzZu2E
International footballer and bestselling children's author Marcus Rashford has guest edited a special-edition Beano comic on sale today.
As part of the guest editorship, for every shop sale of this special comic, Beano will donate 20p to the Marcus Rashford Book Club to unlock reading for fun for as many kids as possible.
The front cover of this special Beano sees Marcus in cartoon form wearing a Beano Editor's t-shirt, with Dennis and Minnie either side of him. Marcus makes a number of appearances in the comic – appearing with The Bash Street Kids, Billy Whizz and Bananaman and even creates his own prank as part of Harsha's Prank Academy.
The guest editorship celebrates the launch of Marcus' new book, You Can Do It: How to Find Your Voice and Make a Difference, written with Carl Anka and published by Macmillan Children's Books (£9.99) and features a special comic strip, created in partnership with Carl Anka which shares how his curiosity became his super power and led him to his career as an author.
The issue also features art by Marta Kissi, illustrator of Marcus' fiction book The Breakfast Club Adventures: The Beast Beyond The Fence and a special comic strip created in partnership with co-writer Alex Falase-Koya.
The special guest editorship is also part of NatWest's Thrive programme – created in partnership with Marcus Rashford, which aims to help 6-16 year olds become more financially confident and realise their full potential, through a series of interactive group workshops and peer-to-peer sessions.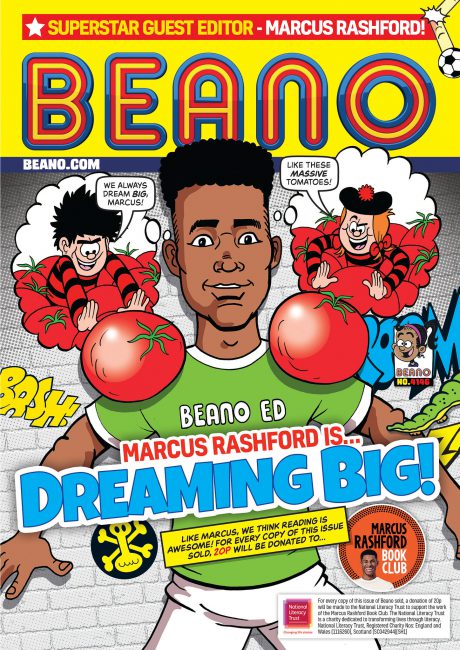 The issue features a strip, specially created to support the NatWest Thrive programme, where Marcus teaches the Beanotown kids about failure, persistence, role-models and patience, making for an inspirational story. In the strip Marcus agrees to present the youth club of the year trophy. The trophy is hotly contested by Bash Street Youth Club (b.s.y.c.) and Beanotown Under-18's Modelling Society (b.u.m.s.).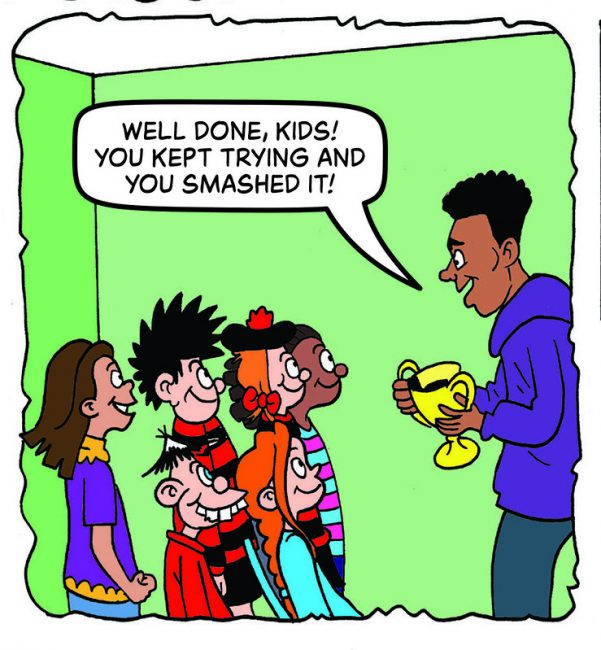 As well as the money confidence story in the comic, NatWest and Beano have created digital games and quizzes that children can play online at Beano.com to build their money confidence.
Craig Graham, Editorial Director at Beano Studios said: "Wow! Marcus Rashford guest editing Beano – that's not something you get to say every day. We're absolutely delighted to partner with Marcus, NatWest and MacMilllan Children's Books to make this amazing guest editorship happen. We're so thrilled with this week's very special comic and hope kids pick up a copy to enter the incredible world of reading."
Marcus Rashford MBE's full editor's letter:
"Yes, please!"
That was my response when Beano got in touch and asked me if I'd like to edit my own special version of the comic. I jumped at the chance because this is a great opportunity for you to get to know me a little better and understand all the things that are important to me. I brought my friends from Macmillan Children's Books and NatWest along for the journey too to help me pull together some exciting activities for you.
Nobody is a success in football without good teammates, and that's true in life as well. Everybody needs to build a team of allies to have fun with and speak up for what's important. Our voice is strong alone, but when our voices come together, we are powerful. When we fight for things that are important together, we can make progress a lot quick than by ourselves. Asking for help is no weakness. Asking for help to achieve things quicker is a superpower.
Finding your voice doesn't have to be difficult. It can be as simple as having the confidence to stand up for something you believe in, or to champion someone else and their difference. Your journey is your strength, and everyone has something valuable to contribute. I wrote my new book You Can Do It with my friend Carl to help you with this, and I hope you enjoy it.
My favourite thing about Beano is how the comic brings together all sorts of different children. Instead of our differences dividing us, we embrace them here, and we find strength in them. We should be celebrating all things that make each of us unique.
Reading is one of my favourite things to do because it lets me dream. I see myself achieving so much more and I'm motivated to give new things a try. Reading is my true escape. My peace, and everyone should have the opportunity to find the joy in books, magazines, audiobooks or even this extra-special edition of Beano – my Beano!
– Marcus Rashford, Guest Editor
The NatWest Thrive programme was created in partnership with Marcus Rashford MBE alongside the National Youth Agency and was first rolled out in April 2022. The initiative operates at youth community centres across England, providing free resources, interactive group sessions and overarching support to bolster the financial confidence of 6-16 year olds, helping them to also identify their passion-points, and work towards future goals and ambitions.
The Marcus Rashford Book Club is a collaboration between iconic international football player and child food poverty campaigner Marcus Rashford MBE, Macmillan Children's Books and The National Literacy Trust. The Book Club aims to encourage and nurture a love of reading in children and get free books to the children who need them the most. * 6% of children in the UK say they do not have their own book at home, which equates to over 400, 000 children in the UK (Book Ownership in 2021). Marcus read his first book at the age of seventeen, and credits this with changing the direction of his life, which is why the Marcus Rashford Book Club has delivered over 250,000 free books to children living in the most disadvantaged areas.
The special charity issue of the Beano staring Marcus Rashford MBE is available in shops and online at Beano.com/Marcus from Wednesday 27th July 2022 until Tuesday 2nd August.
More exclusive NatWest and Beano content is available on beano.com