Animatronic Orangutan scales Christmas tree for Iceland campaign.
Images: free for editorial use HERE
Londoners were stunned this morning as they witnessed what appeared to be an angry Orangutan on the loose and clinging to a Christmas tree on London's South Bank.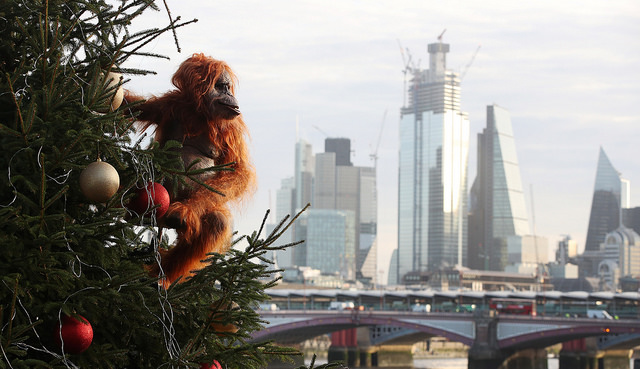 Further sightings were reported at locations across the capital including Oxford Street and the parks of London where the ape appeared to be in search of a new home.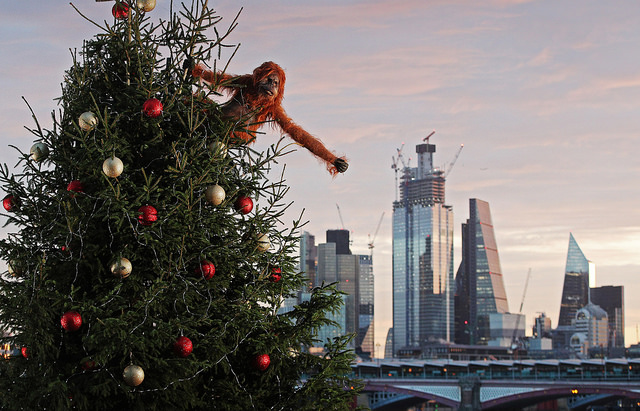 The displaced ape was actually part of supermarket chain Iceland's Christmas campaign, with the stunt being staged using sophisticated animatronics to highlight the retailer offering the choice of Christmas without palm oil.
The campaign was created and delivered by Taylor Herring alongside Iceland's marketing team.
The disruptive campaign follows the banning of Iceland's Christmas advert last week, which featured a baby Orangutan seeking a new home after its normal forest habitat has been eradicated as a result of deforestation.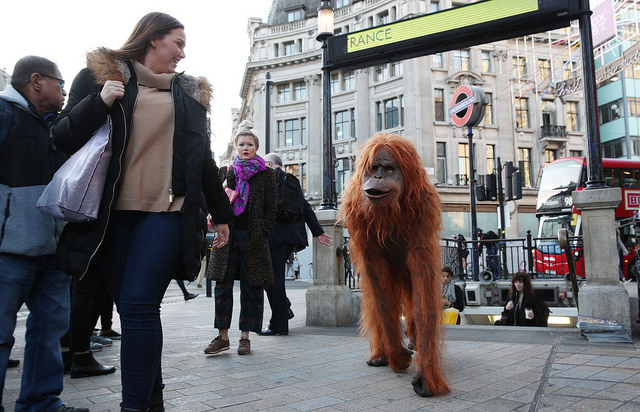 A team of leading special effects artists spent months designing and building the ultra-realistic animatronic replica orangutan, which is controlled both remotely and via a specialist puppeteer who has spent years studying the movements of the species to fine-tune their skills.
The campaign has received mass public support after the supermarket chain's Christmas advert was banned for being too political.
More than 12 million people have now watched the film on Facebook, with it gaining the support of numerous high-profile figures including James Corden and Paloma Faith.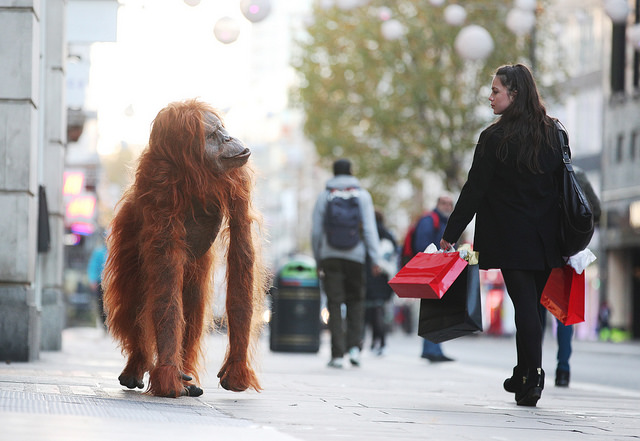 The initiative follows on from new research commissioned by Iceland, which reveals that deforestation and the use of palm oil are among the top three environmental concerns of consumers alongside food waste and single use plastics. Despite their concerns, the study of 1,500 British adults highlighted that over half (56%) weren't aware of the devastating effects palm oil production has on the rainforest and the resulting threat to the survival of orangutan populations.
The majority of retailers continue to use palm oil at an alarming rate, but Iceland is pioneering the response to this needless destruction and endangerment of the majestic apes and has pledged to eliminate the ingredient from all its own label products by the end of 2018.
The natural habitats of the critically endangered orangutans are being torn apart at an alarming rate in Indonesia and Malaysia – both of which are home to the species – leaving the magnificent animals unable to survive. It has been estimated that around 6,000 orangutans are wiped out each year with 80% of their natural habitat disappearing in the space of two decades.
· A rainforest area the size of 146 football pitches is cleared every hour to make way for palm oil production [3]

· Palm oil production contributes to the death of 25 orangutans every day [4]

· 93% of people asked would like retailers to be doing more to make it clear which products contain palm oil[5]
This festive season, Iceland, the UK's leading frozen food specialist, is giving customers an opportunity to enjoy Christmas without palm oil, with a special Christmas food range. The tasty array of food includes luxury mince pies, vegetarian centrepieces and showstopping desserts – all carefully crafted, with recipes reworked to ensure that the removal of palm oil has no effect on quality or taste.
Iceland Managing Director Richard Walker said: "Our stranded, distressed Orangutan is a stark and potent symbol of the effects of deforestation. We always try to give people a real choice about what they buy and this was a key driver of our decision to allow Iceland customers to join us in saying 'no to palm oil'. We are determined to be at the forefront of efforts to guarantee palm oil is not causing rainforest destruction and Iceland will continue to be a driving force until this environmental impact is drastically reduced. I am immensely proud of the work our food development team has carried out to create this new Christmas range without palm oil – a celebration of our commitment to end its use before the year closes."
Iceland made the decision to demonstrate to the food and retail industries that it is possible to reduce the demand for palm oil by seeking alternative ingredient solutions.
Growing demand for palm oil for use in food products, cosmetics and biodiesel is devastating tropical rainforests across South East Asia. In Indonesia and Malaysia, where expanding palm oil and wood pulp plantations are the biggest driver of deforestation[6], the orangutan is being threatened with extinction.
Iceland's Orangutan will be touring regional stores throughout November.
For more information about the Iceland Christmas range and the palm oil commitment visit Iceland.co.uk