Stormzy, Harry Styles and David Attenborough are the stars of Beano's 85th anniversary edition..
Stormzy, Harry Styles and David Attenborough are the stars of Beano's 85th anniversary edition.
Images free for editorial use here
The special commemorative issue also features King Charles and Queen Camilla, alongside celebrities from the world of music, cinema, TV and sport.
Today the nation's longest running comic is celebrating its 85th birthday with a collectible front cover and comic strip. Created to celebrate the best bits of being a kid in 2023, the comic was edited in collaboration with thousands of kids – the most ever in Beano's history.
Other notable stars to grace the comic include Euros winning lioness Jill Scott, YouTuber KSI, deaf actress Rose Ayling-Ellis, singer Adele, F1 racing driver, Lewis Hamilton and Spiderman actor, Tom Holland. All voted for by kids themselves.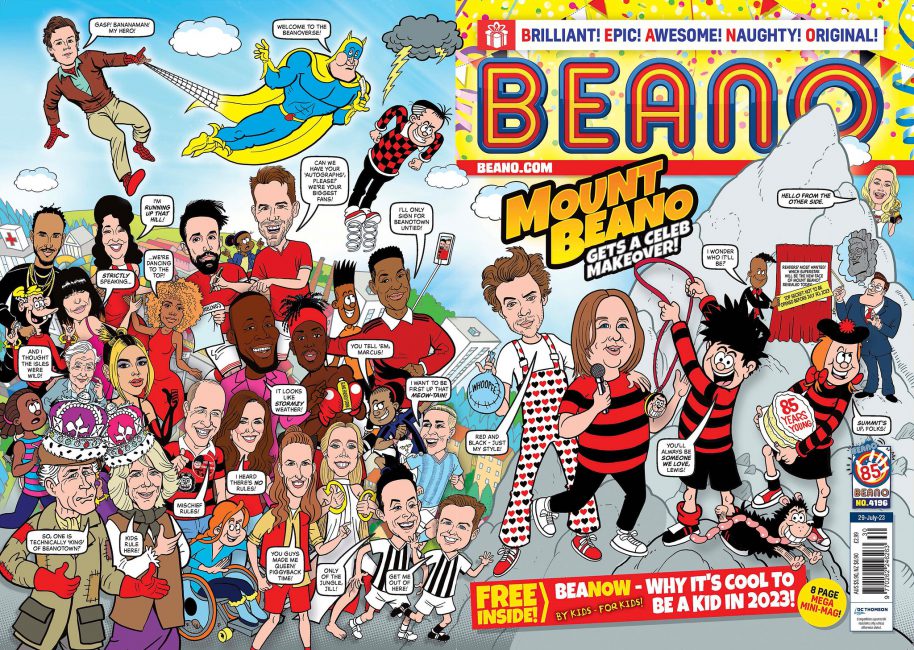 On sale from Wednesday 26th July, the front cover and comic strip has been specially drawn by Beano artist, Nigel Parkinson. It sees the celebrities assist the Beanotown kids in stopping Mayor Brown from carving his own face into Mount Beano for the birthday celebrations.
The comic cover showcases King Charles wondering if he's the monarch in Beanotown, as Queen Camilla happily informs him that kids rule in the iconic fictional town. Each of the celebrities featured will become a proud owner of a Golden Dennis & Gnasher Fan Club badge to commemorate their role in Beano's birthday celebrations.
The comic also features an 8-page mini-mag edited by Dennis himself. Titled BEANOW, the pull-out magazine has been created solely by children, who told Dennis in their own words and pictures why it's great to be a kid in 2023. Highlights include dancing, rapping and catapults.
First launching on 30th July 1938, Beano continues to celebrate everything that is great about being a kid through its mischievous characters, hilarious pranks, and page-turning stories, entertaining generations and capturing hearts worldwide.
4,195 issues have been printed since 1938, with over 70,000 comic strips and over 700 characters, including the infamous Bash Street Kids and Billy Whizz, as well as Dennis and Gnasher.
The comic is still the pulse of the playground after eight decades of jokes and comic capers. A nationwide poll of 3,000 kids aged 7-14 determined which celebrities would be included and who would make the front cover.
Marcus Rashford took the top spot as the most inspirational celebrity according to children, due to not just his footballing abilities but his work on fighting for a fairer society, particularly with free school meals for children.
When asked who children would most like to have at their birthday party, it was Geordie comedy duo Ant & Dec who took the topped the poll. Interestingly, children said they would prefer to have David Attenborough at their birthday party than Stormzy.
Ant & Dec were also voted as the celebs that kids would most like to be best friends with, followed Tom Holland, Phil Foden and Harry Styles.
According to the poll, children said they would prefer to have King Charles and Queen Camilla as their best friend, over the likes of Adele, Lewis Hamilton and Lewis Capaldi.
The YouTuber and rapper KSI, and the singer Dua Lipa, were considered more inspiring than the Prince and Princess of Wales by the children polled.
Mike Stirling, Director of Mischief at Beano said, "As Beano proudly celebrates its 85th anniversary, it continues to champion the power and joy of childhood by doing what it's always done, showing kids being kids. Here's to the next 85 years, and we dedicate this birthday issue to every child out there, because being a kid never gets old."
To ensure as many kids as possible get the chance to enjoy the special comic, Beano is giving away 2023 issues of the comic to classrooms across the country via its Beano for Schools programme. Special subscription prizes will also available across Beano's birthday week. More details can be found at beano.com/birthday
The 85th Anniversary Issue of Beano is available in selected supermarkets and newsagents, and online on magsdirect from Wednesday 26th July.
A special prize draw to win one of the free 8.5 Beano subscriptions (eight one-year subscriptions, one six-month subscription) is open at: beanoshop.com/win